GPrX wins innovation award for "powerful new hospital dataset"
GPrX analytics support Novartis in roll-out of new treatment options for Multiple Sclerosis
GPrX and Novartis win "Best Use of Innovation" at the British Healthcare Business Intelligence Association's 2022 BOBI Awards.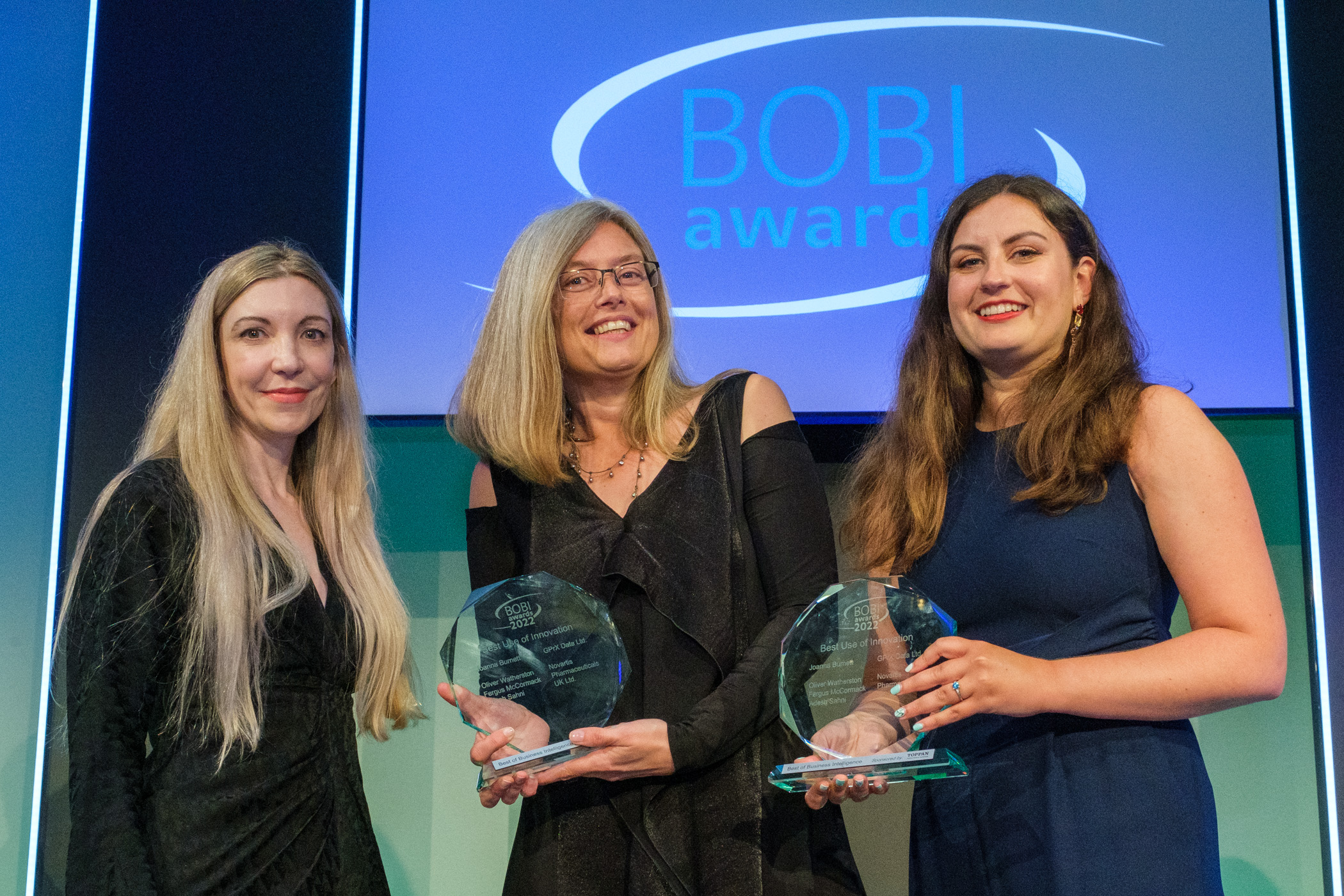 Left:
Alex Jarvis,Toppan Digital Language, award sponsors,
Center:
Joanna Burnett, GPrX Data,
Right:
Rachel Dixon, Novartis UK Ltd.
New data helps with roll-out of latest treatment options for Multiple Sclerosis.
The British Healthcare Business Intelligence Association's 2022 annual awards were held at a gala dinner in London on Monday 16th May, with GPrX winning "Best Use of Innovation".
The winning entry detailed our new-to-market reporting stream of monthly patient insight data. The judges noted:
"Addresses an important data source challenge for pharma companies"
"Identified robust / powerful data at hospital level – great value for the business"
"A key data source to build company strategy"
"Very good insights, good way of presenting data, good engagement with stakeholders"
Using HospRx, our curated NHS hospital medicines database, GPrX creates:
detailed monthly reporting on each drug's "dynamic patient share"
systematic interpretation into numbers of patients on therapy for each brand
measures highlighting monthly MDT patient opportunities at local level
a precise competitor analogue to compare launch performance at an individual account level.
Joanna commented: "I'm delighted that our data has been judged to be a real innovation in information analytics for the life sciences sector. It's been rewarding to hear the positive impact we've created for Novartis UK as they try to help people living with multiple sclerosis and their doctors assess newer drug therapies.
The GPrX team is really proud to be playing a part in hopefully improving these patients' quality of life and reducing the burden on the NHS."
Read more about the winning entry on the BHBIA site here
This approach can be applied to many other therapy areas – Contact us for a consultation.